Rain Barrels and Downspout Planters
Rain Barrels and Downspout Planters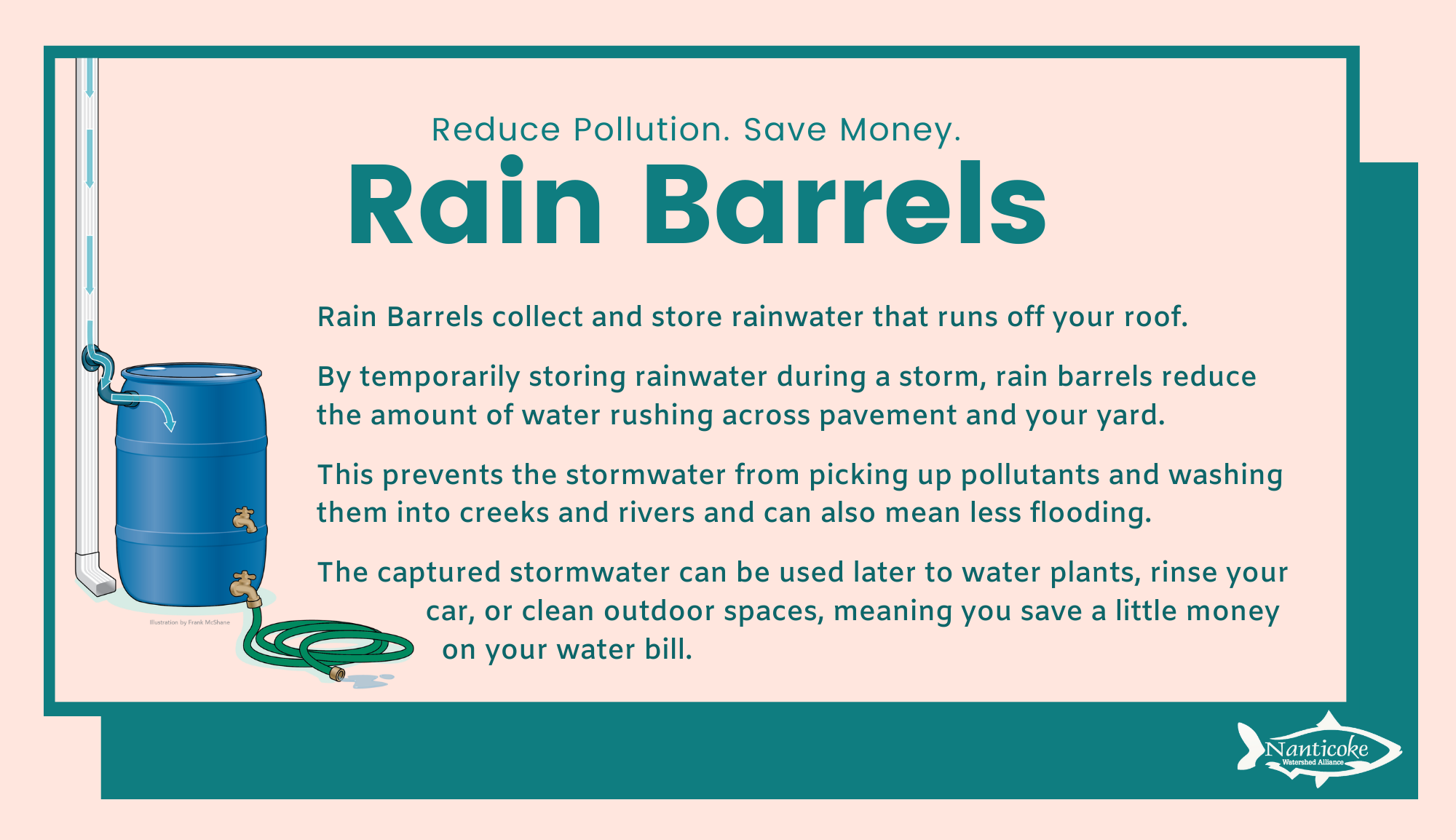 A properly installed rain barrel will catch and store rainwater that falls on your roof during storms. Just like pavement and concrete, our roofs are considered impervious surfaces. An impervious surface is a surface that absorbs or soaks up little to no water. This means that rain will wash over this surface, gaining speed and picking up any pollutants that are sitting on top of it. Fast-moving water can scour lawns and create ruts, and also means water has less of a chance of soaking into the ground even when it's flowing over grass or other soft and absorbent surfaces. Lots of impervious surfaces mean a greater chance of flash flooding since the rainwater will have nowhere to soak in or go.
Read about rain barrels in our brochure below.
~
~
Rain barrels help reduce pollution by capturing rainwater before it can wash across your lawn or nearby sidewalk and pick up any litter, fertilizer, pesticides, chemicals, or pet waste that might be on the ground. One barrel isn't going to capture all the water from your roof, but every gallon of water you can save makes a difference!  Plus, it can end up saving you money during rainy months if you use your rain barrel water in place of water from a spigot.
~
GETTING STARTED:
~
Installing a rain barrel can be very easy. You can find rain barrels for sale at most hardware stores in the spring. They will usually be located in the seasonal section of the store, but ask an employee if you are having trouble finding them.
If you like Do-It-Yourself (DIY) projects or want to save some money, you can buy rain barrel kits online. We suggest using the EarthMinded rain barrel kit, which is available through many online retailers or seasonally at many local hardware stores (we are not financially supported by this company). You will still need to purchase your barrel of choice if you find a DIY rain barrel kit. Try calling around to hardware stores or farm equipment stores to find large plastic barrels that would be perfect for your rain barrel project.
Most DIY kits will come with instruction manuals, but if you really want to do it yourself, you can find instructions online. Here is a link to a website with videos, but you can also find instructions with photos and lists of what hardware you will need to complete the job.
Installing a rain barrel can be an easy day-long project that will offer you many benefits. There are excellent rain barrel ideas out there for all price ranges. Get creative and help reduce your environmental impact with a fun new addition to your yard.
(Always remember to measure twice and cut once! You don't want to have to replace you
r

whole downspout.)
~
~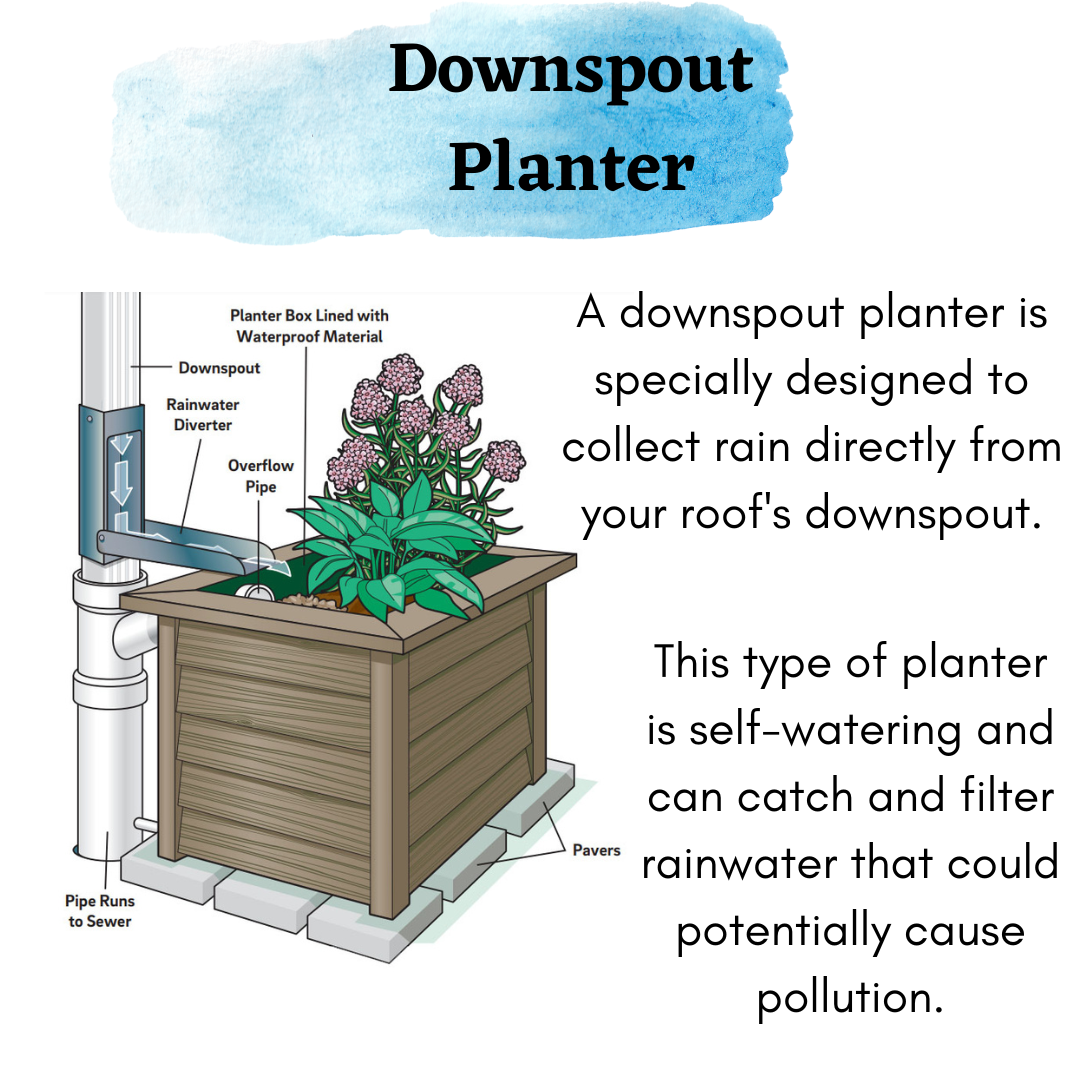 ~
Downspout planters are another great way to reduce runoff and beautify your yard.
Click here to read more about them in our homeowner guide.
Click here for building and installation instructions.
Click here for the conceptual plans of a downspout planter.
The Philadelphia Watersheds website provides plans and instructions for building and installing a downspout planter.
Because their website is closing down, we have download links for the instructions and conceptual plans above. We do not own the rights to any of these documents but want to make sure that they are available to anyone who is interested in creating their own downspout planter. You can also search the internet to find your own set of plans to create a downspout planter that meets your needs! Have fun with it!