Toast The Nanticoke
Toast The Nanticoke
Thanks for a great evening!!!

June 9th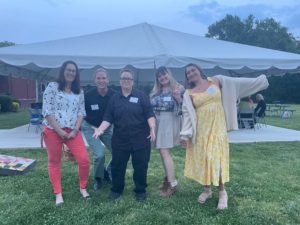 Toast the Nanticoke is our annual fundraiser at Layton's Chance Winery in Vienna, MD. We get together to celebrate the Nanticoke River, our partners, and our community to share the work we've all done to protect one of the last wild rivers in the country. We are so grateful to all of our sponsors, donors, community partners, friends, and families who help keep our projects moving… Thank you for supporting Nanticoke Watershed Alliance!
Scenes from Toast 2023:
A great big THANK YOU to our
2023 Toast the Nanticoke sponsors:
Platinum sponsors:
DNREC
NRG Energy
Gold sponsors:
Friends of the Nanticoke River
MidAtlantic Farm Credit
George, Miles & Buhr, LLC
Carol Dunahoo
BioEnergey Devco
Chesapeake Utilities
Invista
Friends of Blackwater NWR
EA Engineering, Science, and Technology, Inc.
Silver sponsors:
Tri Gas & Oil
Envirocorp, Inc.
Dorchester Soil Conservation District
Sandi Dew
Weisner Real Estate, Inc.
The Marsh Family
Bryan & Sons
If you would like be a Toast the Nanticoke sponsor in the future, please send an email to LisaWool@NanticokeRiver.org
Or click here:

Many thanks to Layton's Chance Winery for their support over the years!

~
~